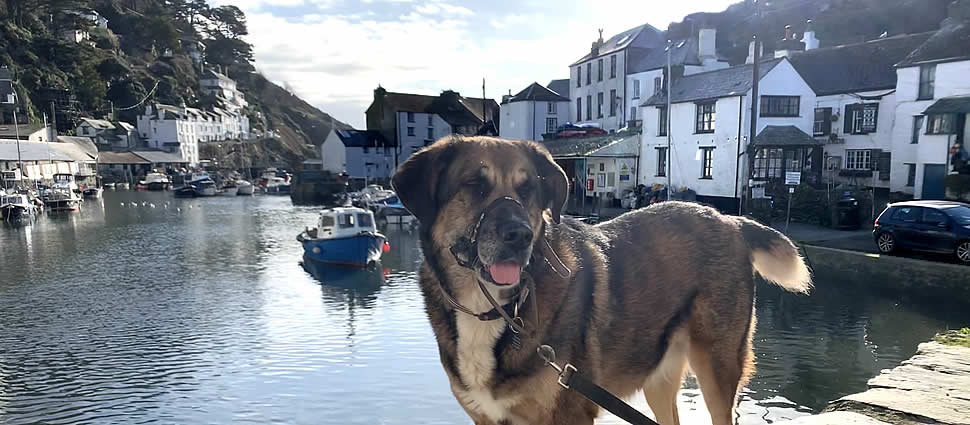 Bring your dog on holiday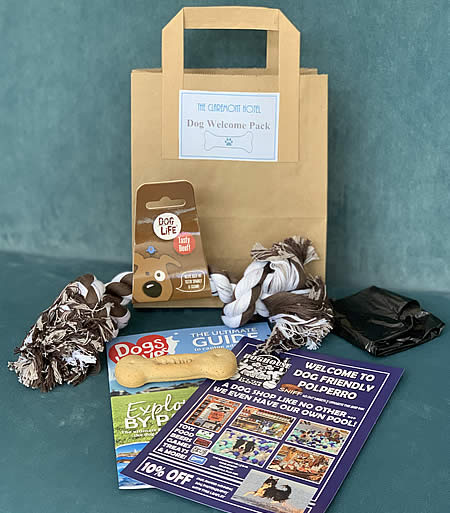 The Claremont Hotel is proudly situated in one of the most dog-friendly areas of the country, making us the perfect place to stay for a holiday away with your pet.
We are delighted to welcome well-behaved dogs into the majority of our rooms, by prior arrangement. There is an extra fee of £12 per dog, per night.
Upon arrival at the hotel, all dogs receive a complimentary welcome pack including a toy and a treat. We also have bowls, dog towels, and blankets available to use during your stay.
Our canine guests are welcome in all public areas of the hotel with you, including the breakfast room, and they are treated to their own delicious sausage at breakfast-time.
Polperro has a wide selection of dog-friendly pubs and cafes, all within easy walking distance of the hotel. The coastal path is only a short walk away, offering stunning coastal views and links to the dog-friendly beaches at Talland Bay, Hannafore, and Seaton.
Polperro has a brilliant little Dog shop called The Doghouse, which sells toys, treats, games, food and even dog friendly beers. We are also happy to recommend The Dog House in Looe for any Dog Grooming needs during your stay.
After each doggy visit, the rooms are given a particularly deep clean to make sure that all of our guests can enjoy the best possible standard of hygiene and cleanliness.
Doggy House Rules:
Please be aware that all Dog Owners are asked to sign a copy of the Doggy House Rules at Check-In.
Dog owners are liable, accountable and responsible for the welfare, behaviour and actions of their dog.
We expect all our Canine Guests to be House Trained. Hotel staff are not responsible for cleaning up after any toilet accidents your dog has, either inside the hotel or on the terrace. Should this occur, we can provide you with cleaning supplies. Any incidents that are either unreported or left for staff to clean up will incur a surcharge, starting from £20 per incident.

Please ensure that your dog is kept on a short lead and is under control at all times, as not all of our guests love dogs as much as we do. Dogs are however welcome in all public areas of the hotel. If you lose your dog's lead during your stay, we have leads available to hire for £5 per day.

Please do not leave your dog unattended in your room if you are not on site.

Under no circumstances are dogs permitted on any Lounge furniture, this includes on laps or on top of blankets placed on the sofa or chairs.

If your dog becomes wet or muddy whilst out for a walk, please dry them thoroughly using the dog towels at Reception, before bringing them inside. Please refrain from using the guest towels to dry your dog.

Please do not dispose of dog waste in any indoor bins. Instead, please use our outdoor dog waste bin, located in the hotel car park next to the recycling bins.

Your dog will be treated to a sausage each morning at breakfast, and they are welcome to join you for this in the Breakfast Room, as long as they will sit quietly with you.

Please be aware that some of the windows in the rooms are close to the ground and a determined dog may try to jump out of one in pursuit of a seagull.

If your dog is likely to get up onto the bed, please remove the throw at the foot of the bed, as the throw is made from a loose-weave fabric and snags very easily on dog claws.